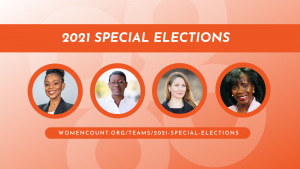 You've probably heard by now, but we just wanted to make sure you knew the results from last weekend's special election in Louisiana's 2nd Congressional District.
Karen Carter Peterson—who would have been the first Black woman elected to Congress from Louisiana—unfortunately fell short against Troy Carter.
But we still have the chance to support Black women in upcoming special elections: former State Senator Nina Turner and Cuyahoga County Councilwoman Shontel Brown are early frontrunners for the special election in Ohio's 11th Congressional District. That primary is scheduled for Aug. 3 in this safe Democratic seat.
You can give to all of our OH-11 candidates—Nina, Shontel and former State Senator Shirley Smith—on our 2021 Special Elections slate.
There's some more urgent news on the special election front: Democratic candidate Jana Sanchez failed to make the runoff in yesterday's special election for Texas' 6th Congressional District. It would have been a stretch to flip this seat, but still disappointing given that Jana came within 7 points in 2018, in what had been an R+20 district.
And one final bit of good news: The special election in New Mexico's 1st District is coming up on June 1. Melanie Stansbury should be able to clench this safe Democratic seat—but we can't take anything for granted since there's also a self-funder in the race.
Support Nina, Shontel, Shirley and Melanie now: Give $5 or more to our 2021 Special Elections slate.