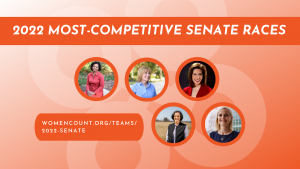 Now that Cheri Beasley has announced she's running for NC Senate in 2022, we are ready to debut our first slate of the cycle that includes the most competitive Senate races for incumbents and non-incumbents.
Right now we have two vulnerable incumbents, Sen. Maggie Hassan (NH) and Sen. Catherine Cortez Masto (NV), and three non-incumbents in purple states: Cheri, Val Arkoosh (PA), and Sarah Godlewski (WI).
Check out our brand new 2022 Senate slate and chip in $5 to each of these women.
A little more about these three non-incumbents—and the competition they're already facing in their primaries:
Cheri was the first Black woman to serve as Chief Justice of the North Carolina Supreme Court. If elected, she would be the state's first Black senator. Her main challenger, state senator Jeff Jackson, has already raised more than $1 million.
>> Give $5 now to help Cheri catch up.
Val Arkoosh chairs the Montgomery County Board of Commissioners, which oversees the third most-populous county in the state. She is a physician with two decades of experience, and led the response to one of Pennsylvania's most severe COVID outbreaks. Lieutenant Governor John Fetterman and state representative Malcolm Kenyatta are her chief primary opponents so far in this open seat race.
>> Give $5 now to help Val stand out in a crowded primary.
Sarah Godlewski is Wisconsin state treasurer, and was first elected during the 2018 wave that turned every statewide office blue. Right now Alex Lasry, a senior VP of the Milwaukee Bucks, is her chief opponent, but Lieutenant Governor Mandela Barnes might also enter the race. Needless to say, Lasry—a billionaire—could basically buy the nomination to take on incumbent Sen. Ron Johnson.
>> Give $5 now to help Sarah compete.
Thanks for stepping up, Meghan. If we don't help these women now, they won't be able to stay afloat in their primaries, and we could end up with NO women nominated in flippable states.