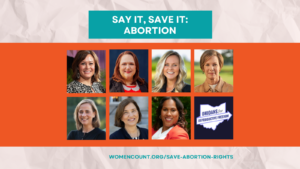 Last week wasn't the end of the abortion fight in Ohio. Voters will head to the polls again in November to decide on constitutional protections for abortion, and the measure is favored to pass, though the vote will still be close.
Dobbs turned the question of abortion rights back over to the states, and it's clear Democrats are on the right side of public opinion. That's why one of the most important things we can do to win statewide races this year and next is support candidates who are making abortion rights a central part of their campaign.
Will you keep the momentum going from this big win in Ohio by pitching in to the seven women on our Say It, Save It: Abortion slate? All are running statewide in purple and red states in 2023 and 2024:
In 2023:
Jacqueline Coleman is the current Kentucky lieutenant governor. She's running for a second term on the ticket with Andy Beshear. Donations go to the Beshear campaign.

Greta Kemp Martin is running for Mississippi attorney general against the incumbent, whose office successfully litigated the Dobbs case.
In 2024:
Jennifer McCormick is Indiana's last popularly elected state education superintendent. She's made criticizing legislative Republicans' extreme stances on abortion and public education pillars of her campaign for governor.

Rachel Hunt is a North Carolina state senator whose emotional launch ad tracked the rise and fall of abortion rights in the United States. The lieutenant governor is elected on a separate ticket.

Joyce Craig, the mayor of Manchester, and Cinde Warmington, a member of the state's executive council, are both running to flip the New Hampshire governor's office. You can donate to both to support their campaigns early or customize your donation.

Keir Bradford-Grey, Philadelphia's former chief public defender, has vowed to protect abortion rights if elected as Pennsylvania's next attorney general.
You can also still give to Ohioans for Reproductive Freedom as they enter this final stretch. Please chip in $5 or more to them and these seven women ASAP.