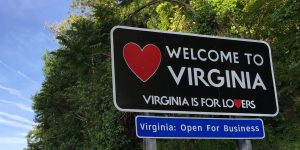 Today is a big day for WomenCount.
Two years ago we launched our crowdfunding platform to support Democratic women running for federal office —–   House, Senate and the presidency. And we are still working our hearts out to protect every single woman Democrat in Congress in 2018 and add even more.
But that's not enough. This week we registered to operate in the state of Virginia so we can now support women candidates running in critical state legislative races there in November —–   just two months away. All 100 seats in the Virginia House of Delegates are up this year —–   and Democrats have a strong path to flipping the chamber.
Support the women running in those seats with our 'Virginia is For Lovers
—–   of Democracy' slate, 10 women who can flip the Virginia House of Delegates if they win in November.
If we can flip Virginia —–   a state whose political leanings approximate the changing demographics of our country as a whole —–   that's a good sign we can flip other statehouses next year. And if we can flip other statehouses next year, we can control redistricting in 2020. That means we can rip up the GOP's gerrymandered maps, stop rampant voter suppression, and compete in freer, fairer elections for years to come.
Winning in Virginia is what Democrats must do if we want our party to be viable in the future —–   and these 10 women can make the difference.
Chip in $5 to each of them right now. 
Thanks,
Stacy Mason,
Executive Director