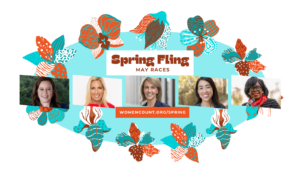 We have results from Wisconsin and Colorado: 
✴️ Judge Janet will soon become Justice Janet! She beat her Republican rival by 10 percentage points, flipping control of the Wisconsin Supreme Court to liberals for the first time in 15 years. Fair maps and abortion rights will soon be on the docket.
✴️ Also in Wisconsin, Elect Black Women PAC-endorsed incumbent Madison Alder Juliana Bennett easily won a second term.
✴️ And in Colorado, former Denver Metro Chamber president Kelly Brough will make it into the runoff scheduled for June 6. Stay tuned—we'll be adding her to the platform soon.
There was one sore spot last night: Jodi Habush Sinykin narrowly lost the state senate race, giving Republicans the supermajority they need to impeach statewide officials. That means they could impeach Janet, but they'd also have to impeach Gov. Evers to keep him from appointing a left-leaning replacement. We'll see how far they are willing to go.
Now that we're past these crucial early April elections, there's no time to waste—because four more hotly contested state and local elections are coming up in May.
Check out our updated Spring Fling slate and give $5 or more ASAP to each of these five candidates with May elections:
✴️ Sierra Enlow, KY Agriculture Commissioner: Sierra is the only down-ballot Democrat running for statewide office in Kentucky who will face a challenger in the May 16 primary. She's an Emerge KY alumna and currently sits on the Kentucky Association for Economic Development board.
✴️ Donna Deegan, Jacksonville, FL Mayor: The Republican mayor is term-limited, so this is a potential pickup for Democrats. In the primary, Democratic candidates received a combined 48 percent and Republican candidates a combined 49 percent, so the May 16 general election could be one of the closest partisan mayoral races in the country.
✴️ Leirion Gaylor Baird, Lincoln, NE Mayor: Leirion won her first term with 54 percent, but she's been dogged by right-wing extremists who could send her Republican opponent to City Hall in the May 2 general election. In yesterday's primary, Democrats received a combined 49 percent versus Republicans' 51 percent, so it'll be another close one.
✴️ Helen Gym and Cherelle Parker, Philadelphia, PA Mayor: The scant polling in this race has a man leading the field, with Helen running second. Cherelle, however, is leading the race for endorsements. We'd love to see either of them win the May 16 primary to become the de-facto next mayor of Philadelphia.
We have less than four weeks until the first of these May elections, so please rush a donation of $5 or more to each of these women now.