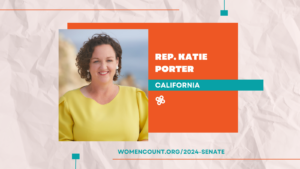 Rep. Katie Porter just announced she is running for California Senate in 2024!
Katie was elected to Congress as part of the 2018 wave, becoming the first-ever Democrat to represent California's District 45. She was re-elected for a third term last year in the newly-drawn District 47, winning in a squeaker with 51 percent of the vote.
And women have been a key driver of those victories. According to Electing Women Research, Katie is among the candidates who last year received the highest proportion of campaign donations from women (55 percent), because she has a good low-dollar program—exactly the kind of collective giving WomenCount facilitates.
WomenCount has been so proud to support Katie during her three successful runs for Congress, and we're excited to be one of the first groups to raise for her 2024 Senate race. Rush a donation of $5 or more to her now by giving to our 2024 Senate slate.
The slate also includes the three women running in 2024 battleground states: Sen. Amy Klobuchar (MN), Sen. Jacky Rosen (NV) and Sen. Tammy Baldwin (WI). We're also watching 1) to see if other women enter the CA primary, and 2) the Michigan seat held by retiring Sen. Debbie Stabenow. We will let you know as soon as other women declare their candidacies.
Keeping women in these open seats will be a crucial goal in 2024. We haven't added a woman to the Senate since 2018, with this current group of incumbent women. There are no pickup opportunities—yet. So if we lose women in any of these 2024 races, we'll lose women in the Senate overall.
Do the Democrats want to lose Senate women on their watch, especially considering how Republicans successfully focused on recruiting female candidates in 2022?
California was the first state to have two female Senators at the same time. After the next cycle, California could have none, and we could lose women in the Senate. We can't let that happen—rush $5 or more to Katie and our 2024 Senate slate now.