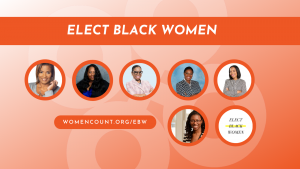 The Senate actually did something this week: 
Juneteenth will now be an official federal holiday, the first new federal holiday since Martin Luther King Jr. Day was first recognized in 1983.
Most Americans are taught in school that slavery ended with the Emancipation Proclamation in 1863. But that's not the whole story. Union forces were unable to enforce the proclamation in Texas until June of 1865. Thus was born Juneteenth, which Texans and other communities have already been celebrating for more than a century.
Like MLK Jr. Day, Juneteenth should be much more than a "day off" from work and school. It should be a day of action—for serving your community, fighting systemic racism, and learning more about the United States' history of slavery and its lasting effects on our lives.
We are calling on our members to recognize Juneteenth this year by giving $5 or more to our Elect Black Women slate, created in partnership with Elect Black Women PAC, which is working to get more Black women elected locally.
The slate of candidates who are all running in local elections this year includes:
LaTonya Tate, Birmingham, AL City Council District 9, General Election August 24: LaTonya is CEO of the Alabama Justice Initiative, which focuses on ending mass incarceration. She's challenging the incumbent in this district and is facing an uphill battle.

Tamika Mapp, New York City Council District 8, Primary Election June 22: Tamika is an Army veteran and the founder and CEO of East Harlem Insurance Brokerage and Tax Service. She's also challenging an incumbent.

Renee Collymore, New York City Council District 35, Primary Election June 22:Renee is the former Democratic leader for Brooklyn's 57th Assembly District. The incumbent in this race is term-limited, giving Renee an opening in a competitive primary.

Rita Joseph, New York City Council District 40, Primary Election June 22: Rita is an educator and chair of the Neighborhood Advisory Board. The incumbent in this race is also term-limited.

Dr. Tenisha Mack, Garfield Heights, OH Mayor, Primary Election September 14:Tenisha is an adjunct criminal justice professor at Bryant & Stratton College. The incumbent mayor is in his first term.

Maraleen Shields, Lehigh County, PA Judge, General Election November 2: Maraleen is an attorney at Fitzpatrick Lentz & Bubba. She leads the Democratic field following the May 18 primary, but is still vying for one of three open seats against five opponents. If elected she would be Lehigh County's first Black judge.
Give $5 to each of these women on our Elect Black Women slate.
Thanks, and happy Juneteenth!