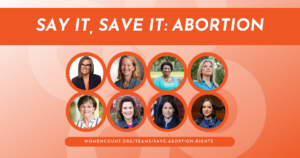 We knew this day was coming, and we're ready. Here's our plan:
Elect statewide officeholders who can save abortion rights if they are elected or re-elected this year.
Of course, we'll never stop fighting for federal action on abortion. But the battlefield has shifted back to where it was pre-Roe—the states. That's why we're drilling down on 1) gubernatorial candidates who can veto anti-choice legislation, and 2) attorneys general who can choose not to defend or enforce existing anti-choice laws.
Please give $5 or more now to these 8 statewide candidates who can protect abortion access in AZ, GA, KS, MI and TX.
Katie Hobbs, AZ Governor: Incumbent Republican Gov. Doug Ducey—who recently signed a 15-week abortion ban—is term-limited. Katie could face Trump-endorsed TV personality Kari Lake in the general election.
Kris Mayes, AZ Attorney General: Arizona also has a pre-Roe criminal abortion ban that Kris has already pledged not to enforce if she becomes the state's chief law enforcement officer.
Stacey Abrams, GA Governor: In her first attack ad, released this month, Stacey takes incumbent Republican Gov. Brian Kemp to task for his support of a 2019 law that bans abortion at 6 weeks, and includes limited exceptions.
Jen Jordan, GA Attorney General: Jen, who shared her story of multiple miscarriages on the state senate floor in 2019, would have the power to limit enforcement of the 6-week ban.
Laura Kelly, KS Governor (i): Since taking office in 2019, Laura has blocked multiple anti-choice bills. Now, there's a constitutional amendment on the 2022 ballot that explicitly denies Kansans' right to choose, so they'll rely even more on her office to protect choice.
Gretchen Whitmer, MI Governor (i): Gretchen is currently asking the Michigan Supreme Court to strike down the state's 91-year-old criminal abortion law, a lawsuit that would immediately grind to a halt if she was replaced by a Republican.
Dana Nessel, MI Attorney General (i): Dana has already vowed not to enforce that 1931 statute or defend it in court, citing her own abortion story.
Rochelle Garza, TX Attorney General: In 2017, Rochelle sued the Trump administration on behalf of an undocumented teenager seeking an abortion. She's vowed to defend abortion rights in every way possible as Texas's attorney general.
Thanks for taking quick action to protect choice. Please forward this email to your contacts and encourage them to give too.