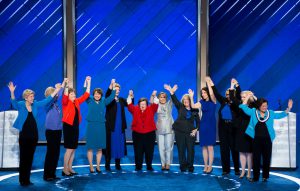 Today is International Women's Day, and women across the country will be striking for A Day Without A Woman. Others who can't afford to strike will be wearing red in solidarity.
The strike got us thinking: What would it be like for the U.S. Senate to spend a day without a woman? Specifically, the 10 women on our Blue Wall slate who are up for re-election in 2018. Help raise for their re-elects now by chipping in $5 to each of them. 
Without these 10 women we lose:
Forty-three committee assignments—and five ranking members—including 3 seats on the very important Judiciary Committee, which will pass judgement on and potentially block Donald Trump's nominations to our country's 870 federal judgeships.
More than 130 combined years of legislative experience, which we'll need to counter the flood of bad GOP legislation as well as move our own priorities forward if—when—Democrats retake control of Congress.
Expertise on a range of critical issues, like financial services regulation (Sen. Elizabeth Warren), sexual assault prosecution and prevention (Sen. Kirsten Gillibrand), health care reform (Sen. Tammy Baldwin), and national security (Sen. Claire McCaskill).
The worst thing we'd lose? Any hope of using Democrats' power in the Senate to check Donald Trump's racist, xenophobic, misogynist agenda.
And losing these seats won't just be a disaster for our country—it could be a disaster for women's equality. Our 2018 Blue Wall slate represents half the women who currently serve in the Senate.
Losing any of them would strike a huge blow against women's representation, so let's make sure we don't: Chip in $5 to each of them right now.