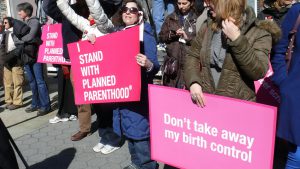 Did you see the news yesterday?
We're only three days into the new legislative session, and already the GOP is moving full steam ahead with a plan to repeal Obamacare —–  and de-fund Planned Parenthood at the same time.
With the GOP in control of both chambers of Congress and soon the presidency, access to reproductive care is more imperiled than ever before. But the 8 women on our Reproductive Rights slate stand ready to fight any attempt to send us back to the dark ages.
Pitch in $5 to the women on our Reproductive Rights slate to show them you've got their backs in this fight —–  and in the battles to come.
The slate includes Rep. Kyrsten Sinema, a former winner of Planned Parenthood's legislative CHOICE award. She's also the first openly bisexual person to serve in Congress, and she represents a swing district in Arizona that will be a top GOP target in 2018.
Also on the slate are newly-elected Sens. Kamala Harris and Maggie Hassan. As California's attorney general, Harris helped investigate the California-based front group that targeted Planned Parenthood with misleading "sting" videos. And as the governor of New Hampshire, Hassan fought —–  successfully —–  to restore Planned Parenthood funding that had been cut by the state.
We know these women are committed to fighting for our rights in Congress, but we also know that makes them top GOP targets.
Show them you've got their backs. Chip in $5 to Rep. Sinema, Sens. Harris and Hassan, and all the women on our Reproductive Rights slate.