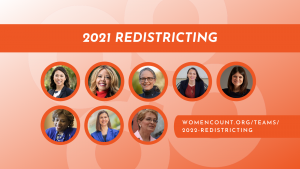 Last week's census announcement has political punditry in overdrive over control of the US House in 2022—and despite better-than-expected numbers, things are not looking good for Democrats.
New analysis from the Cook Political Report predicts Republicans could gain as many as eight seats *just* from redistricting, and they only need five to erase the Democrats' majority.
Redistricting is especially not looking good for Democratic women. Using Cook data, we've identified eight House incumbents who are at risk of having their districts gerrymandered to be more Republican, or eliminated altogether:
Stephanie Murphy (FL-7)
Lucy McBath (GA-6)
Carolyn Bourdeaux (GA-7)
Sharice Davids (KS-3)
Elissa Slotkin (MI-8)
Haley Stevens (MI-11)
Brenda Lawrence (MI-14)
Marcy Kaptur (OH-9)
Help them prepare for the fight ahead. Chip in $5 or more to our 2022 Redistricting slate.
Republicans have control of the redistricting process in four of these states—Georgia, Florida, Ohio and Kansas—making them especially ripe targets for eliminating Democratic seats.
The danger is most acute for Marcy in Ohio, which is losing a Congressional seat. Stephanie, Lucy, Carolyn and Sharice are all in slim-Democratic districts flanked by heavily Republican ones, which will make it easy for Republican legislatures to manipulate the districts in their favor.
And although a nonpartisan commission will draw districts in Michigan, it's also losing a seat, meaning someone will have to go, and that's likely to be easiest in Elissa's, Haley's or Brenda's suburban Detroit districts that have lost population.
After redistricting, these women will either have to fight to stay in Congress by running in a new district, or they'll be facing a much more conservative electorate.
Filling their campaign coffers now makes them stronger candidates as the redistricting process unfolds. Chip in $5 to each woman on our 2022 Redistricting slate.