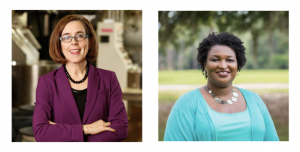 Big news: Stacey Abrams officially has her opponent for this fall's Georgia gubernatorial showdown.
In a shocking upset, far-right candidate Brian Kemp triumphed over sitting Lt. Gov. Casey Cagle, meaning we can expect a Trump-like spectacle to loom over the coming race. Kemp's victory also helps bump the race into the Lean R column. It was previously rated a solid hold for the GOP.
Meanwhile, a recent poll of Oregon's gubernatorial race has Gov. Kate Brown unexpectedly tied with her Republican challenger at 45 percent.
This is a can't-miss opportunity to boost the seven women on our Meet the Wave: Governor's slate. Chip in $5 to each of them now.
Governor's races this year are more important for Democrats than they've ever been. Out of all 50 states, Democrats control governorships in a paltry 16, compared to 33 for Republicans. And only two of those Democratic governors are women.
Even worse, we hold "legislative trifectas" in only eight of those states—but Republicans have 26.
This week's news in these races shows that we need to bring enthusiasm—and our dollars—to every single race in the country, in red states like Georgia and blue states like Oregon.
Help defend Democrats' power in states like Oregon and claw our way back to power in states like Georgia—chip in $5 to Stacey Abrams, Kate Brown, and the five other women on our Meet the Wave: Governors slate.