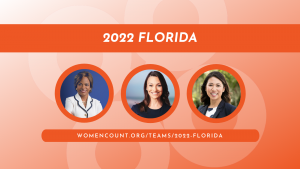 Over the last few weeks, we've seen the field take shape in what will be some of the most competitive races for 2022. But nowhere is the entire statewide ticket as complete right now—and as interesting—as it is in Florida.
That's why today we're officially debuting our 2022 Florida statewide slate of women running in the closest races: Val Demings for US Senate, Nikki Fried for governor, and incumbent Stephanie Murphy for re-election to the US House.
Give $5 to each and help us reach $2,022 on the slate before crucial second-quarter fundraising ends on June 30.
A little more about the candidates:
Val currently represents Florida's 10th Congressional District. She was Orlando's first female police chief, and before that was a social worker. In Congress she's been active on gun reform, and served as an impeachment manager during President Trump's first impeachment trial. Val's entrance into the race makes it significantly more competitive for Democrats.

As Florida's agriculture commissioner, Nikki is the only statewide elected Democrat. She's also the first woman to ever hold the job. As commissioner, she's been a strong advocate for legalizing medical marijuana and implementing stronger background checks on gun permits.

Stephanie has represented Florida's 7th Congressional District since 2017, when she defeated the Republican incumbent and became the first Vietnamese American woman to serve in Congress. Now, she's the best person to ensure this purple district stays blue.
We won't sugarcoat it: Winning in Florida is going to be tough in 2022. But if anyone can, it's these three women: Give $5 to each of them now.