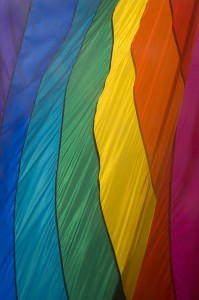 We just wanted to drop you a quick note about Pride.
Those of us flying the Democratic banner have had a rough month. We saw a devastating loss at the ballot box, and Congress move closer to kicking more than 20 million people off their health insurance.
But on dark days, there was one thing we could count on the cheer us up: The unbridled spirit of joy and resistance beaming from Pride celebrations across the country. 
This spirit is truly something for everyone to hold on to in the weeks, months and years ahead, on the days the bad overshadows the good —–   and on the days like Monday's 2-year anniversary of nationwide marriage equality, when we celebrate our victories.
In that spirit, we want to invite you to keep celebrating by giving $10 to our LGBTQ slate. It includes Rep. Kyrsten Sinema and Sen. Tammy Baldwin, the only two LGBT lawmakers currently serving in Congress. 
They're fighting every day for a government that is fair, compassionate, and upholds everyone's rights and liberties.