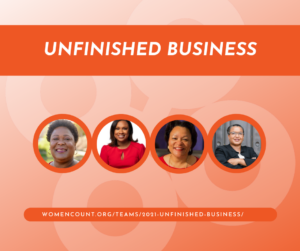 We are still waiting on results in some close races, but here's a quick download on how WomenCount candidates did last Tuesday. 
Topline: Overall, it was a rough night for Democrats, especially in Virginia. But not exactly terrible for women, especially women of color.
First, the worst—Virginia. Del. Hala Ayala lost her bid for lieutenant governor, in what was a full Republican sweep of all statewide offices and the House of Delegates.
We'll refrain from jumping into deep analysis of what happened in Virginia, but it seems clear that education issues helped Republicans claw back some suburban voters. Heading into 2022, we can't let the GOP control that conversation—and that'll be a lot easier if Congress can pass the President's agenda, which includes popular education policies like universal pre-K.
However, even though Democrats are now in a 49-seat minority in the Virginia House, the women who swept in during the 2017 and 2019 waves largely survived, minus Del. Nancy Guy and Del. Martha Mugler. Non-incumbent women didn't make a lot of inroads, though Briana Sewell did keep Hala's seat under Democratic control.
Black women also advanced down-ballot: Alyia Gaskins won her bid for Alexandria City Council, and will be the only Black woman serving; Stephanie Morales won re-election as Portsmouth Commonwealth Attorney; and Tiffany Boyle will be Newport News' next revenue commissioner.
In fact, women of color had an OK night in municipal elections. Felicia Moore won 40 percent of the vote outright, putting her in a good position to be Atlanta's next mayor. In Boston, Michelle Wu will be the first woman and first person of color elected mayor, and the city council will seat two new Black women, Kendra Hicks and Ruthzee Louijeune.
Unfortunately, India Walton in Buffalo and Lorena Gonzales in Seattle came up short.
We still have some unfinished business too: In New Orleans, city elections are delayed until Nov. 13 because of hurricanes. Mayor LaToya Cantrell has a crowded primary, and Susan Hutson is running for sheriff on a pro-criminal justice reform platform. In Atlanta, Felicia Moore will need to win the city's Nov. 30 runoff election, as will city council candidate Erika Estrada.
Can you chip in $5 or more to our Unfinished Business slate to make sure Democratic women of color can win even more local leadership positions?