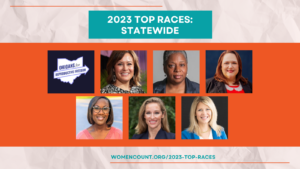 Quick reminder: This year is NOT an off-year in key states—Kentucky, Mississippi, Virginia and Ohio.
Check out this year's most-competitive state races and give $5 to each candidate on our 2023 Top Races slate.
We're bumping this slate for you today because in less than two weeks, on Aug. 8, voters will head to the polls in Ohio to begin a critical two-step process to repeal the state's abortion ban:
First, voters need to block an attempt by abortion foes to raise the threshold for passing ballot measures from a simple majority to 60 percent. That's what we're watching for on Aug. 8—and you can help fund the block on our slate.

Second, voters need to add an amendment to the Ohio Constitution. That will hopefully happen on Nov. 7.
The slate also includes three statewide candidates:
Kentucky Lt. Gov. Jacqueline Coleman, who is running for re-election this year with Gov. Andy Beshear. Cook rates this race as Lean D.

Kentucky Attorney General candidate and retired Air Force attorney, state Rep. Pamela Stevenson. This is an open seat that Democrats held as recently as 2019.

Mississippi Attorney General candidate Greta Kemp Martin, who is running on an explicit pro-abortion rights platform to counter the current AG, whose office directly supported theDobbs v. Jackson (Mississippi) case that overturned Roe.
And three Virginia legislative candidates in tossup, flippable districts: Kimberly Pope Adams (House District 82), Susanna Gibson (House District 57) and Russet Perry (State Senate 31). Democrats need to flip three seats to regain control in the House of Delegates and maintain a two-seat majority in the state Senate.
All of these elections will have implications for abortion rights—protecting them in Kentucky and Virginia and expanding them in Ohio and Mississippi. Rush a donation of $5 or more now to our 2023 Top Races slate.