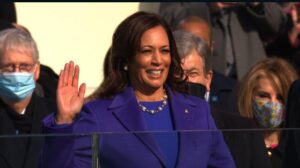 Today, we can finally exhale the collective breath we've been holding in for 1,461 days.
Because today we didn't just inaugurate a new President—we inaugurated the post-Trump era, starting with the historic swearing in of the first female Vice President of the United States, Kamala Harris!
You did this. We hope you're reflecting today on the massive outpouring of women's political activism that got us here—and taking a moment to toast yourself and all women who have done this crucial work.
It's impossible to express in words what a huge progressive step Kamala's inauguration is for women and all Americans, who can finally look to the top of our executive branch and see someone that represents the best parts of America: A daughter of immigrants, who has spent her life striving for justice.
And it bears repeating that women did this: Women led the resistance to Trump, building out Democrats' organizing and fundraising power in 2017, 2018, 2019, and 2020, and sweeping historic numbers of women—including women of color—into Congress.
Clearly, women have been building our political muscles like never before. But as we celebrate today, we must commit to not letting those muscles atrophy. We still live in a world where hate is openly embraced by large numbers of Americans. The forces of Trumpism won't go away on their own—they have to be held back Every. Single. Day.
We have some experience building political muscles that could have atrophied. After all, for four years we had hope, and it fueled us to this moment.
Let's never forget what the last four years felt like, or what today feels like—only by holding both can we achieve more progress in the years to come.
Thanks for celebrating with us today,