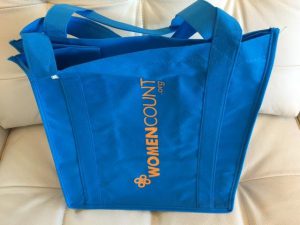 We've got five days to make a difference in some of the tightest races in the country. Here are three things you can do now.

First, enter our Election Night Contest. You predict the final outcome for each question—like how many seats Democrats win on November 6—and we'll tally up the results and award the winner or winners with a WomenCount market bag.

Then, check out (and print out) our 2018 Election Night Scorecard: It includes the closest races in the country with women candidates and allows you to keep track by time zone as the polls close in each state. You'll know before anyone else how women fared on Election Day.

And finally, give now to our WomenCount Top 10 Slate! All are on our Election Night Scorecard and represent the closest toss-up races in the country.

Right now it includes three races where Black women are moving up and making history: Stacey Abrams—who could be the first black woman ever elected Governor—as well as Lauren Underwood (IL-14) and Linda Coleman (NC-2). FiveThirtyEight has just moved their House races from Lean-R to pure toss-ups.

Give $5 to these three and the seven other women on our Top 10 slate to help them in these final days.