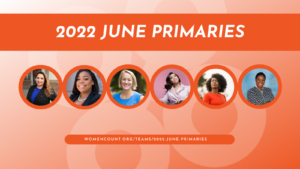 The last big primary date in June is next Tuesday, and this is your last chance to fund candidates during the final leg of the race.
We're watching two states: Illinois—which is holding all legislative, statewide and Congressional primaries—and New York, which is holding statewide and state house races. New York Congressional and state senate primaries will be August 23.
The last six candidates on our June primaries slate are:
Delia Ramirez, US House, IL-3: Delia represents district 4 in the Illinois House of Representatives and serves as Assistant Majority Leader. This is an open, safe-D seat. Her main primary opponent is Chicago Alderman Gilbert Villegas.

Kina Collins, US House, IL-7: Kina, a local gun violence prevention and health care activist, has an uphill climb against incumbent Democratic Rep. Danny Davis. Elect Black Women PAC endorsed.

Nikki Budzinski, US House, IL-13: Nikki is a senior advisor on labor issues and Chair of the Broadband Advisory Council in Gov. JB Pritzker's office. Nikki's main opponent for this lean-D seat is local activist and financial adviser David Palmer.

Chakena D. Perry (i) and Precious Brady-Davis, Chicago MWRD: Chakena is running to retain her current seat, while Precious is hoping to be elected to a full term on the board of the nine-member Metropolitan Water Reclamation District. Elect Black Women PAC endorsed.

Tamika Mapp, NY State Assembly, District 68: Tamika is an Army veteran and small business owner. She's challenging Democratic incumbent Eddie Gibbs. Elect Black Women PAC endorsed.
Give $5 or more now to each of these candidates, Megan.
Thanks! And stay tuned for full June primary results, plus an update on the rest of this summer's primaries.