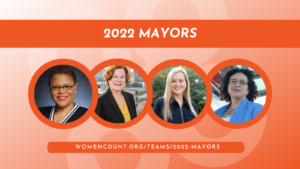 Election Day 2022 is in two weeks, and while the national political energy is focused on Congress, we can't forget about local elections this year, especially mayors. Why? In the political world, mayors can be the start of the pipeline to state and national office.
That's why WomenCount is watching four close races where women are vying to maintain or gain control of the city's top office. They need your help now to make the most of these final 14 days.
With so few mayoral races happening this year, and even fewer seriously contested by Democratic women, it's important to give everything we can to these four. Give $5 or more to all of them now on our 2022 Mayors slate.
To remind you, those seven candidates are:
Karen Bass, a former US Representative who's running for mayor of LA against billionaire and former Republican Rick Caruso. This race is a toss up. Karen would be the first woman elected mayor.

Cindy Chavez, a county supervisor running for mayor of San Jose, CA against council member Matt Mahan. Polls vary, but some show Chavez down 3 points. She would be the first woman of color elected mayor.

Mary Ann Baldwin, the incumbent Raleigh, NC mayor who's being challenged by a fellow Democrat (a man—who the county Democratic Party endorsed) because of knocks against her "leadership style." Sounds like sexism to us!

Celia Israel, a state lawmaker in a three-way race for mayor of Austin, TX against a male Democrat and a female Republican. If we don't fund Celia, she could very easily get squeezed out of the race.
Meghan: This is your last chance to help preserve and build women's leadership in key cities. And it's an especially critical opportunity for women of color to claim historic firsts in two of California's largest cities.
Women make up only 26 percent of mayors of major US cities, according to the Center for American Women and Politics. We need to up that number.