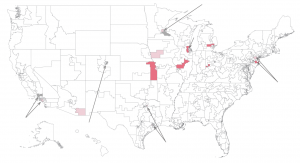 Since Thursday, there's been a lot of chatter about targeting the 35 House Republicans in swing districts who voted to repeal Obamacare and, among other things, do away with essential health benefits such as mammograms and pap smears.
Here's an idea: Let's replace them with women. 
The Republicare legislation is a cruel, Frankenstein monster of a bill that would allow people to be denied coverage because of a pre-existing condition and cause 24 million people to lose coverage altogether.
We must prep now for what comes next. That's why we've created the 2018 WomenCount Victory Fund to support women who run to unseat now-vulnerable House Republicans.
Right after the House vote, the Cook Political Report put 20 additional GOP districts in play for the Democrats for 2018. Cook and others are predicting that voting to repeal Obamacare will irreparably harm these and 15 other Republican incumbents' re-election chances.
All donations to the Fund will be split among Democratic women who challenge any of these incumbents in next year's general election.
We're hoping the Fund serves two purposes. One is, obviously, to help Democrats win back the majority and protect Americans' access to health care.
The 2018 WomenCount Victory Fund's other purpose, though, goes back to our core mission: Providing the grassroots funding that women candidates need to succeed, in a way that builds community among donors.
Be a founding donor to the 2018 WomenCount Victory Fund: Chip in $20.18 today.