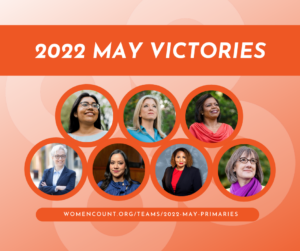 Electing pro-choice women is the most impactful thing we can do to protect abortion rights—especially as we're on the cusp this year of potentially losing women overall in Congress and statewide offices.
There are key elections in North Carolina and Oregon next week, and in Georgia and Texas on May 24, that can help stop this trend.
Give $35 or more to our May Victories slate to fund these candidates now.
They are:
Cheri Beasley, US Senate, NC: Mitch McConnell is already talking about passing a nationwide abortion ban if Republicans take control of the Senate. That can't happen if we send Cheri to Congress and protect incumbent Democrats.
Tina Kotek, Oregon Governor: Tina, the former Oregon House speaker, faces the current state treasurer, Tobias Read, and 13 others in the primary. We need to keep this seat—and Oregon's strong abortion protections—in a woman's hands.
Andrea Salinas, US House, OR-6: Andrea, who is Latina, is endorsed by the Congressional Hispanic Caucus, outgoing Gov. Kate Brown and Planned Parenthood, yet the House Majority PAC has endorsed her opponent, a White crypto bro, in this safe-D district.
Renitta Shannon, Georgia Lieutenant Governor: Let's put her on the ticket with Stacey Abrams, so two pro-choice Black women will be in the running for Georgia's highest executive offices.
Jen Jordan, Georgia Attorney General: State attorneys general will be charged with enforcing any new state abortion laws, and thus have a central role in protecting access and keeping women out of jail. This is an open, flippable seat.
Rochelle Garza, Texas Attorney General: Rochelle faces former Galveston Mayor Joe Jaworski in the runoff. This office is Democrats' most likely pickup in Texas; let's make sure the nominee is a pro-choice woman.
Jessica Cisneros, US House, TX-28: Jessica's opponent, Rep. Henry Cuellar, is the last anti-choice Democrat in the House of Representatives. With the fall of Roe looming, it is more important than ever to unseat him now.
Winning these races will help us protect abortion access as well as women's representation in Congress and state governments. Give $35 or more now to help these five women to victory.