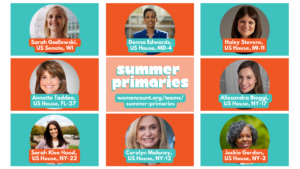 Late summer is usually a sleepy time for primaries, but not this year. Redistricting battles have pushed many into August, which now features almost as many primary contests as June.
Many of these races have one thing in common: Democratic men trying to muscle women out. This stings, especially as women confront the rollback of one of our most basic human rights.
To protect abortion rights, we need to put more Democratic women in Congress. Give $40 or more now to our Summer Primaries slate.
And remember that you can give to the entire slate — or customize your donations. It's easy!
Sarah Godlewski, US Senate-WI: Sarah, the current state treasurer, polls third against Lt. Gov. Mandela Barnes and NBA executive Alex Lasry, but race watchers aren't counting her out, as 36 percent of voters are still undecided. The primary is August 9.

Donna Edwards, US House, MD-4: Donna hopes to recapture the deep-blue seat she vacated to run for Senate in 2016, but she faces a steep challenge from Prince George's County State's Attorney Glenn Ivey. The primary is July 19.

Haley Stevens, US House, MI-11: Redistricting forced Haley into a primary with fellow Rep. Andy Levin for this likely Democratic seat. The race has become another left (Andy) versus moderate (Haley) proxy, though both have solid liberal bonafides. The primary is August 2.

Annette Taddeo, US House, FL-27: Annette dropped a run for governor to focus on this tossup seat held by Republican Rep. María Elvira Salazar. Annette polls well against two male primary challengers, but this will be a tough general election race. The primary is August 23.

Jackie Gordon, US House, NY-2: Jackie hopes to make a second run against Republican Rep. Andrew Garbarino for this lean-Republican seat after a close loss in 2020. The primary is August 23.

Carolyn Maloney, US House, NY-12: Current 10th district Rep. Jerry Nadler jumped into this Manhattan race after redistricting, even though Carolyn's old 12th makes up 60 percent of the new one, and the old 10th makes up less than 30. ¯\_(ツ)_/¯ The primary is August 23.

Alessandra Biaggi, US House, NY-17: Alessandra signed on to challenge incumbent Rep. (and DCCC Chair) Sean Patrick Maloney, after he also district-hopped to run in a less competitive, more blue district. This race pits an establishment candidate against a more progressive newcomer, but an upset is possible given it's a new district for Maloney. The primary is August 23.

Sarah Klee Hood, US House, NY-22: This district held by Republican Rep. John Katko has become slightly more Democratic after redistricting, and Sarah is locked in a crowded race to see who will take him on. The primary is August 23.
Elect Democratic women. Protect abortion rights. Give $40 or more now to our Summer Primaries slate.