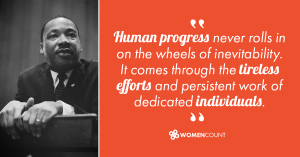 Today we honor the legacy of the Rev. Martin Luther King Jr., and four short days later we will usher in a new Administration that threatens to dismantle some of our most precious and hard-fought civil rights — women's rights, human rights, voting rights, gay rights, and the list goes on.
We must keep up the drumbeat of protest and opposition at every turn. Two ways to take action this week:
Donate to WomenCount's Civil Rights slate to support the women at the front lines of the battle to defend civil rights.
Sens. Dianne Feinstein, Amy Klobuchar, and Mazie Hirono serve on the Judiciary Committee, presided at confirmation hearings for Jeff Sessions, nominee for Attorney General, and will vet Supreme Court nominees as well. All three are up for re-election in 2018. Show them we have their backs! We're also honoring Sen. Kamala Harris, who has already vowed to vote against Sessions' confirmation.
MLK Day reminds us we must never give up the fight. Act now.