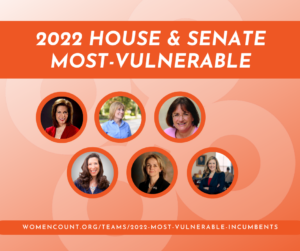 Last Tuesday's statewide elections in Virginia and New Jersey have reshaped the political math for 2022—math that already predicts a strong Republican advantage.
In fact, the National Republican Congressional Committee was so energized by the GOP's showing on Nov. 2 that before most races had even been officially called, they sent out a press release announcing 13 new House incumbents had been added to their 2022 target list.
The new targets include Annie Kuster (NH-02), Teresa Leger-Fernández (NM-03), Madeleine Dean (PA-04), and Jennifer Wexton (VA-10). They join the 20 incumbent women in swing districts who were already on the list.
This comes on the heels of the Cook Political Report downgrading Sen. Catherine Cortez Masto's and Sen. Maggie Hassan's races from 'likely D' to 'lean D,' a sign that political prognosticators consider them more vulnerable than they did earlier in the year. There was good news out of New Hampshire this morning though, when Gov. Chris Sununu announced he will not run for Senate. But Maggie will still have a very tough race.
That's why today we're rolling out our slate of 2022's Most Vulnerable Incumbents—starting with these four representatives and two senators.
Chip in $5 to each and help them hold their seats.
We'll be updating the slate frequently as these races change, so keep an eye on it.