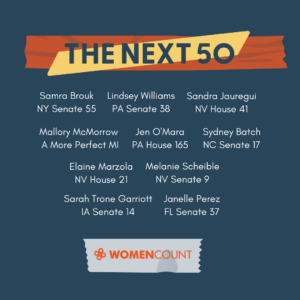 Did you know that more than 50 percent of members of Congress under 50 years old are Republicans? How is that possible, when more than half of Republican voters are over 50 years old? Shouldn't the party of younger voters (Democrats) have more young members?
Republicans are simply better at recruiting the next generation of leadership, according to The Next 50, an organization that's hoping to change that. Since 2019, The Next 50 has endorsed and funded 50 Democratic candidates and political leaders under age 50 in each election cycle.
WomenCount is partnering with The Next 50 this cycle to make sure their women candidates are fully funded, starting near the beginning of the political pipeline: State legislatures. Chip in $5 or more now to each candidate on our new The Next 50 slate.
The slate is 10 candidates competing in seven legislative battleground states:
Florida
This year Democrats see an opening to stop a GOP supermajority in the state senate. Janelle Perez is hoping to win control of State Senate District 37.
Iowa
This is another opportunity to stop a GOP supermajority in the state senate. Sarah Trone Garriott is hoping to keep control of State Senate District 14, which she flipped last year.
Michigan
Michigan is a battleground state across the board. Democrats hope to keep control of the governorship, protect abortion rights via referendum, and flip both state legislative chambers. Mallory McMorrow's A More Perfect Michigan PAC is raising to protect and flip targeted senate seats.
North Carolina
Democrats need to hold a handful of seats in the state legislature this year to prevent Republicans from gaining a supermajority. Sydney Batch's State Senate District 17 is being targeted for flipping by Republicans.
New York
Both chambers are pretty safe this year, but State Senate District 55, held by Samra Brouk, only flipped in 2020 and is vulnerable.
Nevada
The Democratic trifecta—control of the governorship and both legislative chambers—is at risk, so The Next 50 has endorsed three incumbents: Melanie Scheible in State Senate District 9, Elaine Marzola in State House District 21 and Sandra Jauregui in State House District 41.
Pennsylvania
Pennsylvania is another state where Democrats can establish a trifecta by flipping both chambers. Incumbents Jen O'Mara, in State House District 165, and Lindsey Williams, in State Senate District 38, need to keep their seats.
We need to stop letting Republicans out-recruit us. Give $5 to all 10 of The Next 50's endorsed candidates and support the next generation of Democratic (female) leadership.