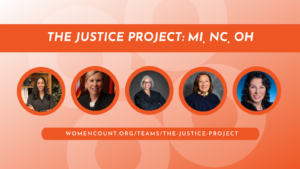 The fall of Roe v. Wade has thrown the responsibility for protecting abortion rights back to the states—and it's not just governors and legislatures who have a role to play.
Over the last week, state judges have blocked restrictions in Florida, Louisiana, Michigan, Texas, and Utah. Thus, state Supreme Courts will be hugely influential in the abortion fights to come, and unlike the justices on the US Supreme Court, many of those state judges are elected.
Today we're excited to introduce a new partnership and a new slate: The Justice Project. It features five pro-choice women running for state Supreme Courts in MI, NC and OH.
Give $25 or more to the Justice Project slate now.
Here's the current state of the courts in those three states:
Michigan — hold: A pro-gender equity majority hangs in the balance. Right now, this majority is the only thing standing between Michiganders and the enforcement of a 1931 law that criminalizes abortion.
North Carolina — hold: A pro-gender equity majority hangs in the balance. There is a pre-Roe ban on the books that prohibits abortion after 20 weeks, which could be litigated.
Ohio — flip: This is an opportunity to capture a pro-gender equity majority. A conservative Ohio judge recently activated an older law to ban abortion after six weeks of pregnancy in the state.
Celebrate and protect freedom and liberty today by giving $25 or more to our new Justice Project slate.