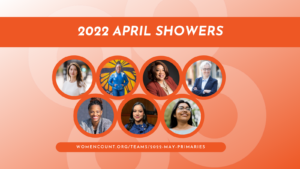 Primaries for the 2022 cycle kick off in earnest in May, with important contests in Ohio, Nebraska, Kentucky, Oregon, Pennsylvania, North Carolina, Georgia and Texas. 
During these last few weeks of April, we'll be breaking down for you the top federal and statewide races, starting with the seven most-competitive in the country.
April showers bring May victories. Shower each woman on our 2022 April Showers slate with $5 or more ASAP.
The candidates are:
Bee Nguyen, GA Secretary of State: Incumbent Republican Brad Raffensperger's vulnerability to a MAGA challenger has Democrats lining up. Bee is a member of the Georgia state House, serving in Stacey Abrams' former seat. The primary is May 24.

Attica Scott, US House, KY-3: This is an open, solid Democratic seat that would likely send Attica to Congress. White men are sticking together though—retiring Rep. John Yarmuth has endorsed her opponent in the May 17 primary. She is endorsed by Elect Black Women PAC, a WomenCount partner organization.

Erica Smith, US House, NC-1: Winning this race is critical to preserving another open, Democratic seat that's now less solidly Democratic due to redistricting. Erica is a former state senator and the only woman running in this crowded race. She is also endorsed by Elect Black Women PAC. The primary is May 17.

Tina Kotek, OR Governor: Tina is the former speaker of the Oregon House. Her main opponent in this crowded primary on May 17 is State Treasurer Tobias Read. Post-primary, she'd likely be (along with Maura Healey) the first openly lesbian governor in the country.

Summer Lee, US House, PA-12: This is another open, safe Democratic seat—in the Pittsburgh urban core—that will likely send the primary winner to Congress. Summer is a member of the Pennsylvania House and the only woman in this crowded race. This primary is also May 17.

Rochelle Garza, TX Attorney General: Rochelle is seen as Democrats' best opportunity to pick up a statewide office in Texas (sorry Beto) due to Republican AG Ken Paxton's unpopularity and legal issues. She faces former Galveston Mayor Joe Jaworski on May 24.

Jessica Cisneros, US House, TX-28: Jessica and Democratic Rep. Henry Cuellar are locked in a tight runoff race on May 24. Let's hope the second time's the charm for knocking out the House of Representatives' last anti-choice Democrat.
Let's make sure these women are set up for victory in May. Give $5 to each of them via our 2022 April Showers slate.