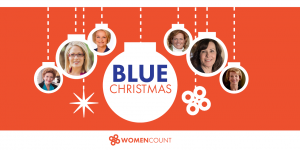 Doug Jones' nail-biting win on Tuesday leaves the Democratic Senate minority with 49 seats, enough to put us within striking distance of retaking the chamber in 2018.
Wresting control of the Senate next year was a bit of a long-shot, less viable than gaining a majority in the House —–   but not anymore.
If we can put Reps. Kyrsten Sinema and Jacky Rosen into two incredibly competitive Senate seats in Arizona and Nevada-and hold our current seats-the majority is ours.
Help get us there: Chip in $5 to each of the women on our Blue Christmas slate. 
Defending our incumbents will also mean protecting current Lt. Gov. Tina Smith of Minnesota, who will fill Al Franken's Senate seat starting next year, and who has said she will run in 2018 to fill the rest of the term. We'll add her to our slates once her candidacy is official.
Winning back either chamber next year will deal a major blow to the GOP agenda. But winning the Senate means taking on Trump directly: rejecting outright his unqualified judicial nominees, and putting real teeth behind the ongoing investigations.
All we need to do is get Kyrsten and Jacky elected, and protect our incumbents. Chip in $5 to each of them as part of our Blue Christmas slate.