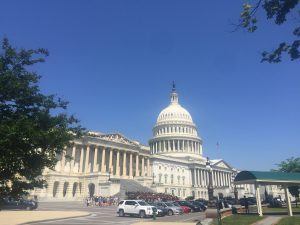 We started the week planning to highlight climate change in this e-mail, given the devastation from Hurricane Harvey along with record heat in the Pacific Northwest, raging fires in the Rockies, and another powerful hurricane on the way —–   all while the Trump Administration continues to dismantle the EPA.
But then yesterday Trump dropped a cruel bombshell: The Deferred Action for Childhood Arrivals (DACA) program —–   which protects nearly 800,000 hardworking young people from deportation —–   will be cancelled in 6 months.
We have two lines of defense against Trump's dangerous, destructive agenda: the grassroots resistance and Democrats in Congress. Simply put, we can't afford to lose a single Democratic woman in the House or Senate. 
Chip in $5 to each of the 7 vulnerable incumbents on our 2018 Red Zone slate. You'll be helping them keep their seats—–   and supporting a path for Democrats to take back Congress.
The fact is, Congress could pass an immigration reform bill that keeps the DACA program safe from Trump's whims. And it could pass environmental legislation that protects the EPA's climate science programs from being dismantled piece by piece.
But right now, there's only one party seriously prepared to do those things: Democrats. And Democrats can't take back Congress if any of the 7 women on our 2018 Red Zone slate lose their seats.