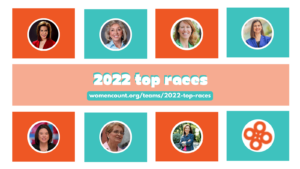 Tomorrow is the final quarterly deadline before Election Day, and these women are running against men in seven of the closest races this year.
Why are we highlighting them? This election cycle is on track to be one in which Democratic women's representation in Congress shrinks, mostly due to poor recruitment efforts early in the cycle. Their male opponents also have extreme opinions on abortion rights.
We need to help these women keep their seats:
Catherine Cortez Masto, NV Senate: Her opponent Adam Laxalt, the state's former attorney general, once called Roe v. Wade "a joke," and has been endorsed by Nevada Right to Life, National Right to Life and Donald Trump.
Dina Titus, NV-1: Her opponent Mark Robertson recently scrubbed his website of anti-choice references, including his support for federal anti-choice legislation.
Cindy Axne, IA-3: Her opponent State Senator Zach Nunn said during the primary election that he believes all abortions should be illegal, without exceptions.
Elissa Slotkin, MI-7: Her opponent, State Senator Tom Barrett, recently deleted from his website support for laws that ban abortion "from conception."
Angie Craig, MN-2: Her opponent Tyler Kistner supports a national abortion ban, as well as bans without exceptions for the mother's life or health.
Marcy Kaptur, OH-9: Her opponent JR Majewski is a literal insurrectionist who stormed the Capitol on Jan. 6, and he believes "life starts at conception."
Kim Schrier, WA-8: Her opponent Matt Larkin wants to ban abortion in Washington and nationwide, and also supports banning contraception.
Let's make sure anti-choice extremist men don't push these women out of Congress and further endanger our rights. Rush a donation of $5 or more to these seven women now—before the final end-of-quarter deadline tomorrow.