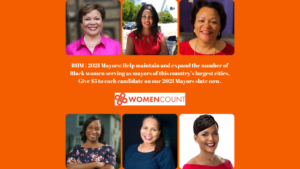 Mayors have a critical role in public policy, as elected officials standing on the front lines of crises—mitigating climate change, furthering racial justice, and of course, managing the coronavirus pandemic. They're also an important part of the political pipeline: Mayors often go on to serve in Congress, or as governors.
Last year we asked you to help us build the pipeline of Black women who have the financial support they need to run for higher office, and you responded by giving more than $100,000 to Shirley's List, a slate of women running for local office in California.
Shirley's List was such a success that we promised you we'd be back with more local candidates in 2021. Now, here they are:
For Black History Month we're debuting our first local candidate slate of the cycle: Six Black women, both incumbents and challengers, who are running for mayor in some of the country's largest cities this year. Chip in $5 to each of them.
Right now, we're watching three incumbents:
Keisha Lance Bottoms (Atlanta), who's in a potentially competitive race due to the city's rising crime rate—a situation many major cities have struggled with during the coronavirus pandemic;
LaToya Cantrell (New Orleans), who's not facing a strong challenger yet, though she hasfaced a lot of bad-faith criticism over her decision to enact strict coronavirus restrictions on the city's bars and restaurants;
And Vi Lyles (Charlotte), who's also not facing a strong primary challenger yet—and early money can make sure the race stays that way.
We're also watching three challengers:
Andrea Campbell (Boston), who could become the city's second Black female mayor; the former city council president, who ascended to the position after Mayor Marty Walsh resigned to be Biden's Labor Secretary, is the first (and has not yet said if she'll run);
Tishaura Jones (St. Louis), the only Black woman running in a competitive primary being held in less than two weeks, on March 2;
And Deborah Peoples (Fort Worth), the former Tarrant County Democratic Party chair who is vying to unseat the city's Republican mayor.
Chip in $5 now to each of these women now and help maintain and grow Black representation at city hall.