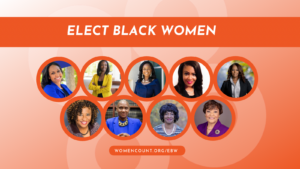 We're midway through Black History Month. Have you stepped up yet for Black women candidates?
Do it now: Check out our Elect Black Women slate of all 23 endorsed candidates and chip in $5 or more to them to celebrate Black History Month.
It's a big list, we know, so feel free to customize.
A study of the 2020 election cycle from Open Secrets found Black Democratic women running as challengers or in open seats received "significantly less money from large individual donors than any other group of candidates." And women donors gave about half as much to Black women as they did to other groups of women candidates.
It's happening this cycle too: All of the Black women House candidates on this slate are being outraised by their (male) Democratic or Republican opponents.
The WomenCount team wants all of us to work hard this cycle to reverse these trends. These 23 Elect Black Women candidates need your funding this year, but two in particular need it ASAP to compete in primaries coming up March 1st:
Tracy Scott, who's running in TX State House 92, which only went to the Republican incumbent by 3 points in 2020. Redistricting has now made it even bluer.

Veronica Nelson, who's running for 482nd Criminal Court Judge, a brand-new district created last year that's currently held by a Republican, but is competitive.
Give $5 to both of them and check out the rest of our Elect Black Women slate.
Thanks in advance for giving generously to Black women today and throughout the cycle.