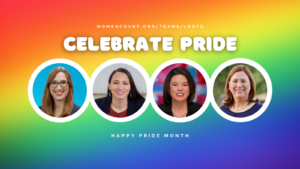 What better way to celebrate the last week of Pride Month than by welcoming to the 2024 election cycle a candidate who could be the first openly transgender member of Congress?
Today, state Sen. Sarah McBride announced she will run for the at-large Delaware House seat being vacated by Rep. Lisa Blunt Rochester, who is running for US Senate.
This is likely to be a contested race in a safe Democratic seat. Make sure Sarah has support early: Give $5 or more to her and the four other Congressional candidates on our 2023 Pride slate.
If elected, this would be the next in a lifetime of firsts for Sarah. In 2012, she became the first openly transgender person to work in the White House. In 2016, she became the first transgender person to speak at a national party convention. And in 2020, she became the first transgender person elected to a state senate seat.
Now, she could be the first transgender person in Congress—if she makes it through the Democratic primary. Chip in $5 or more to her now.
And don't forget to support the four other candidates on the slate:
Tammy Baldwin: Wisconsin will be one of the most competitive states during the 2024 cycle, and Tammy needs early money to stave off a serious general election challenger for her US Senate seat.

Sharice Davids, KS-3: Since she flipped the seat in 2018, the race has always been close, and 2024 isn't expected to be any different.

Angie Craig, MN-2: Another 2018 alumna whose races are always close, Angie won in 2022 with just 50 percent of the vote.

Julie Johnson, TX-32: Julie, a TX representative, is the newest entrant in the primary for the seat being vacated by Rep. Colin Allred as he runs for US Senate. It's a Likely D district, but could be competitive in the general election.
Celebrate LGBTQ Pride during these last few days of June by donating to our Pride slate and helping increase the number of LGBTQ women in Congress.