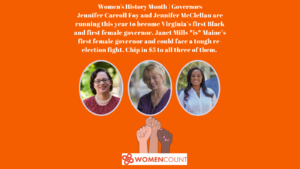 We're back with another update from our member survey and another slate of Women's History Makers (WHM) for Women's History Month.
This week's new slate is all about governors, because 50 percent of you chose governors as one of the race types you would most like to prioritize this cycle.
On our WHM Governors slate are three women who are or could be 'first' governors: Jennifer Carroll Foy and Jennifer McClellan, either of whom could become Virginia's first Black and first female governor this year, and Janet Mills, who is Maine's first female governor and will be up for reelection next year.
Check out the slate and chip in $5 to each candidate.
Women currently make up only 16 percent of all governorships—only 8 women governors in the country!—and there has never been a Black woman governor in the US.
And the women on our slate aren't just firsts—they are also champions of voting rights and health care access, the top two issues from our member survey. Janet Mills signed legislation expanding Medicaid under the Affordable Care Act and implementing automatic voter registration. Jennifer McClellan and Jennifer Carroll Foy championed Medicaid expansion as legislators. Jennifer McClellan served as the main Senate sponsor of the state's Voting Rights Act, and Jennifer Carroll Foy sponsored legislation to restore former felons' voting rights.
Both Jennifers are already in a tough primary against former Virginia Gov. Terry McAuliffe. And former Maine Gov. Paul LePage—a bombastic Republican with a Trump-like personality—has already announced his candidacy against Janet.
Make sure these women have the early cash needed to compete: Chip in $5 or more to our WHM Governors slate.
Thanks,
The WomenCount team
PS: Next week we'll have a new WHM slate and an important update on an upcoming race—so keep a close eye on your inbox.