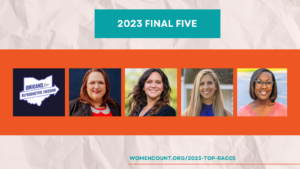 "Off-year" elections are less than a week away, so we've narrowed our top 2023 slate to FIVE races to support with your final donations. Some of these are leaning-R races where late cash could make the difference in a wave, though most will be familiar to you as the hottest races in the country.
In addition to critical statewide elections in Ohio and Mississippi, we're tracking the Virginia state Assembly, where Dems can flip the chamber and block efforts by Gov. Glenn Youngkin to restrict abortion access in the state.
Help us crack our $15k goal by Friday. Check out the slate and chip in $5 or more to each race. The funds go straight to the campaigns:
Ohio Abortion Ballot Referendum: We can't overstate how important it is that this ballot measure succeed. Polling shows the race is a toss up, and a loss for abortion rights will be a huge blow to American women and Democratic electoral strategy heading into 2024.

Greta Kemp Martin, MS Attorney General: The top of the ticket matters here. Democratic gubernatorial candidate Brandon Presley (yes he is related to that very famous Presley) is polling evenly with incumbent Republican Gov. Tate Reeves. That could pull Greta up, especially since she's running against the incumbent AG who instigated the Dobbs case.

Lily Franklin, VA Delegate District 41: Political ratings orgs score this district Lean R, but race insiders say it could be a surprise flip if Democratic challenger Lily Franklin gets the funding she needs. This district has gone back and forth between the parties in the last three cycles.

Jessica Anderson, VA Delegate District 71: Democrats have closed the gap in this district the last two cycles, though prognosticators are still calling it Lean R. It's another good candidate to flip in a wave if challenger Jessica Anderson is fully funded.

Kimberly Adams, VA Delegate District 82: This seat is a pure toss up. Kimberly Adams, who is endorsed by our partner Elect Black Women PAC, is being badly outspent by the incumbent Republican, mostly due to an infusion of outside money.
Help us reach for these seats during the final stretch and notch a BIG win in Ohio: Chip in $5 to each race ASAP.