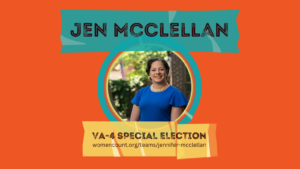 In case you missed it, at the end of November, Rep. Donald McEachin (VA-4) passed away, leaving a Democratic seat open in Virginia.
The only woman running to fill the seat is state Sen. Jennifer McClellan, who ran for governor in 2021. And the primary is next Tuesday, December 20!
Why so soon? Republican Gov. Glenn Youngkin set the special election for February 21, meaning the filing deadline is December 23, and Democrats need to name a nominee before then. Most Virginia Democrats think this is an attempt from Youngkin to stifle Democrats' get out the vote efforts.
We only have a few days to make sure Jennifer is the nominee for this Democratic seat in Congress, and she's facing a credible challenge from a self-described "pro-life" male state senator with a history of courting controversy. Pitch in $5 or more to her ASAP.
This is an incredible opportunity to add another Black woman to the House, and increase women's overall numbers in Congress.