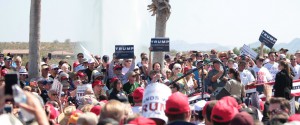 Does Trump's rhetoric and Cruz's agenda make you as mad as it makes us? Want to do something that sends a clear message to the Republican party? Channel your Trump Rage into something productive.
We're tired of the anti-immigrant, anti-Muslim, racist, misogynistic vitriol on the other side. Here's a way to speak up: Give to our "Trump Effect" slate.
There are four Democratic women candidates "down ballot" whose campaigns have been put into play by political experts as a result of the extreme and offensive narrative coming from the GOP presidential front-runners.
Thanks to Trump and Cruz, these races—– one Senate and three House—– have gotten a boost. These candidates need your support now, more than ever.
The "Trump Effect" slate includes:
Katie McGinty, a former aide to Gov. Tom Wolf running for Senate in Pennsylvania and locked in a tight primary next week;
Colleen Deacon, a single mother and former aide to Sen. Kirsten Gillibrand trying to unseat a Republican in upstate New York;
Gail Schwartz, a former state Senator in Colorado trying to unseat an incumbent Republican;
LuAnn Bennett, running in northern Virginia against incumbent Rep. Barbara Comstock, who has donated a $3,000 donation from Trump to charity.
Now that the "Trump Effect" has improved their chances to win, donate $5 or more to each of these candidates to further boost their campaigns. 
It's like turning lemons into lemonade.