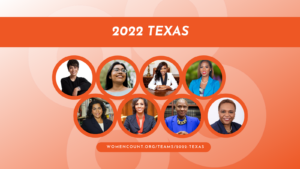 We're less than four weeks away from 2022's first primary contest, in Texas on March 1.
Texas is the only game in town right now. Other March primary states pushed their elections back due to delays in redistricting. And women are on the ballot in critical races.
So we're going big this month on Texas elections, by raising $2,022 on our brand-new Texas 2022 slate of eight women vying for seats in the general election.
Most federal races are in blue seats where we can increase Democratic women's political power in Congress ASAP. And the three state level candidates are endorsed by our partner Elect Black Women.
The slate includes:
Eliza Alvarado, TX-15: This open House seat leans Republican or is a tossup, depending on whether you're looking at Cook or FiveThirtyEight. Eliza's lagging 3:1 behind her two male opponents in total raised and cash-on-hand.
Jessica Cisneros, TX-28: Jessica ran against incumbent anti-choice Democratic Rep. Henry Cuellar in 2020 and lost. She may do better now that he's under an FBI investigation—yet he's still outraised her by $1 million this cycle.
Jasmine Crocket & Jane Hope Hamilton, TX-30: This is the district vacated by Democratic Rep. Eddie Bernice Johnson, so it's very blue. Jasmine has Rep. Johnson's endorsement, but Jane has outraised her. And both are being outraised by the race's leading man. 😞
Rebecca Viagran, TX-35: This open seat is also very blue, but Rebecca is lagging in fundraising against two male opponents, one of whom has raised nearly half a million dollars.
Tracy Scott, TX State House 92: In 2020 the Democrat in this race came within 3 points of the Republican incumbent, so it's competitive—and redistricting has made it even bluer.
Veronica Nelson, 482nd Criminal Court Judge: This is a brand-new district created last year. The appointed incumbent is a Republican, but the race is competitive.
Linda Harris, Shelby County Attorney General: The incumbent is a Republican with a history of ethics trouble, which gives Linda an opening. It's pretty rural though, making it tough.
Thanks in advance for chipping in $5 to these women and helping us hit our $2,022 goal!
Or customize your donations if you have your favorites. But let's make sure these women are funded before it's too late.