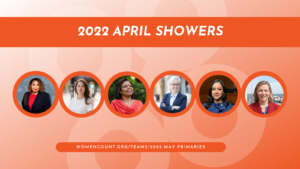 We're back in your inbox with an update on our April Showers slate.
This week we're highlighting seven statewide candidates—in Georgia, North Carolina, Ohio, Oregon and Texas—with primaries as soon as next Tuesday.
You'll notice one prominent candidate missing from this slate: Stacey Abrams, who doesn't have a primary challenger. Cheri Beasley has several nominal primary challengers, so we've included her even though she's the clear frontrunner in North Carolina's US Senate race.
The rest of the candidates are:
Renitta Shannon, Georgia Lieutenant Governor: Renitta is the first bisexual person to serve in the Georgia House of Representatives. She faces nine challengers—all men—on May 24 for this open seat.

Bee Nguyen, Georgia Secretary of State: Bee was featured in our top races email earlier this month. The office is in play, especially if Republicans nominate an extreme MAGA candidate. Bee faces five challengers on May 24.

Nan Whaley, Ohio Governor: Nan is the former mayor of Dayton. A pickup here is a longshot, but within reach depending on who makes it out of the Republican primary. She faces former Cincinnati Mayor John Crawley on May 3.

Tina Kotek, Oregon Governor: We also featured this former Oregon House speaker in our top races email. The Democratic candidate to replace Kate Brown, who is termed out, is a heavy favorite to win the general election. Tina faces the current state treasurer, Tobias Read, and 13 others on May 17.

Rochelle Garza, Texas Attorney General: Another candidate from our previous email. This race is the most-likely Texas statewide pickup for Democrats. Rochelle faces former Galveston Mayor Joe Jaworski in a runoff on May 24.
Let's continue to shower these candidates with cash. Give $30 or more to our 2022 April Showers slate.