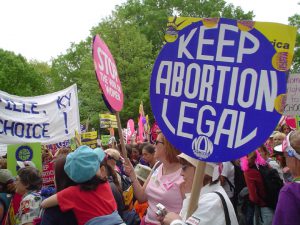 A quick update on what's happened in the states since Friday:
The Bad
Abortion bans went into effect in 7 states, including Alabama, Arkansas, Kentucky, Mississippi, Missouri, Oklahoma, and South Dakota. Laws were blocked by state courts in Louisiana and Utah.
Strict 6-week or "heartbeat" restrictions went into effect in Ohio, Texas and South Carolina, making abortions very hard to access in those states.
Thousands of patients in these states had their appointments canceled while they were in clinic waiting rooms, and many will now be forced to give birth.
The Good
California, Oregon and Washington announced they would serve as abortion "sanctuary" states, by further codifying abortion rights and releasing more state funding for abortion services.
Governors and legislatures in states with strong protections, including Massachusetts, Maryland, Minnesota, New Hampshire, New Jersey, New Mexico, New York, Pennsylvania and Vermont, moved to further protect abortion rights.
Democratic attorneys general in Michigan, North Carolina, and Wisconsin, and prosecutors in Atlanta, Cleveland, Columbus, Dallas, Indianapolis, Nashville, New Orleans and St. Louis, vowed not to prosecute people under anti-choice state laws.
Protect and expand Democratic power in the states. Give $5 now to each of the governors and attorneys general on our Say It, Save It: Abortion slate.