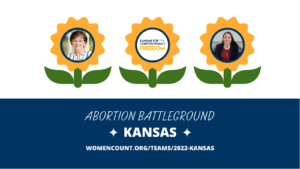 Kansas is an abortion rights battleground this year.
On August 2, primary voters will go to the polls to pick their nominees for November—and to decide on an amendment aimed at removing the state's constitutional protections for "personal autonomy," including abortion.
If the amendment passes, it will pave the way for a total ban on abortion in Kansas.
Kansas' pro-choice elected officials are in trouble too. Gov. Laura Kelly—who vetoed four anti-choice and anti-LGBTQ bills during her first term—is in a tossup race, as is Kansas' sole Democratic member of Congress, Rep. Sharice Davids.
Kansans for Constitutional Freedom, who are leading the NO campaign against the ballot initiative, need to raise at least $300,000 ASAP to put their ads on air. And both Laura and Sharice are at risk of being outspent by their Republican opponents.
That's why today we're debuting our first 2022 Abortion Battleground slate, featuring both women candidates and the ballot initiative. Give $15 or more now.