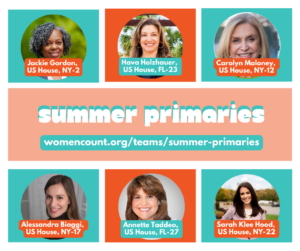 Last night, Vermont got one step closer to sending its first woman ever to Congress.
Vermont Senate President Pro-Tempore Becca Balint defeated Lt. Gov. Molly Gray in the primary for the state's lone US House seat. She's likely to win in November, meaning Vermont will no longer be the only state never represented by a woman in Congress.
Unfortunately, there are no other House races on our Summer Primaries slate where the nominee is guaranteed to be a woman.
As we look ahead to critical primaries just two weeks from now, there are two Democratic seats where we can make sure women win: FL-23, where Florida ADL attorney Hava Holzhauer is running to replace retiring Rep. Ted Deutsch, and NY-12, where incumbent Rep. Carolyn Maloney is battling Rep. Jerry Nadler.
Four other very competitive general election seats are in FL-27, where the frontrunner is state Sen. Annette Taddeo; NY-22, where DeWitt Town Counselor Sarah Klee Hood's main primary opponent is a crypto billionaire; NY-17, where NY state Sen. Alessandra Biaggi is taking on district-hopping incumbent Democratic Rep. Sean Maloney; and NY-2, where Army reservist Jackie Gordon is running a second time.
Give $5 to each of these women now so they can win their primaries and win in November.