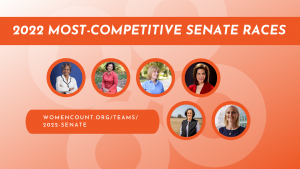 Like you, we're mad.
Moments ago, Senate Republicans filibustered democracy reform legislation known as the For the People Act.
Hope is NOT lost: Some senators are still searching for a legislative solution, and more than 60 percent of voters support the bill's key components, like ending partisan gerrymandering and guaranteeing early voting.
But we all know that if we had just a few more votes in the Senate for ending the filibuster, we'd be passing the For the People Act and other bold legislation right now, instead of begging Sen. Joe Manchin to find a compromise.
We can still do that—in 2023, by ensuring every woman on our 2022 Senate slate wins.
The Senate map looks good for Democrats, but we need to start working now to make sure women have the financial resources they need to win key races. In case you need a reminder, the slate is:
Two vulnerable incumbents, Sen. Maggie Hassan (NH) and Sen. Catherine Cortez Masto (NV);

Three women in tossup races in the most flippable seats in the country: Val Arkoosh (PA), who chairs the Montgomery County Commission, Cheri Beasley (NC), the first Black woman to serve as Chief Justice of the North Carolina Supreme Court, and Sarah Godlewski, Wisconsin State Treasurer; and

Congresswoman Val Demings, whose quest to unseat Sen. Marco Rubio in Florida will be an uphill battle but much more likely now that she's in the race.
Turn anger into action today: Give $30 or more to our 2022 Senate slate before the critical June 30 reporting deadline.