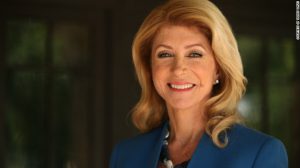 Wendy Davis is running for Congress!
She's set to challenge freshman incumbent Texas Rep. Chip Roy, who won last year by a (barely) 3-point margin. A star-powered, progressive champion like Wendy could be what it takes to make up that difference.
You can welcome her to the race right now by chipping in $5 to her and the four other candidates on our House 2020 Red to Blue slate. Or feel free to customize your donation and give to Wendy only. 
You might remember Rep. Roy from his recent shenanigans as the sole House member to block a disaster aid package destined for Texas and Puerto Rico. For that, he received bipartisan condemnation and only succeeded in delaying critical aid for his home state.
Wendy, on the other hand, has always been a fighter for Texans. You might remember her from her days in the Texas Senate, where she famously filibustered (in pink tennis shoes) a bill that banned abortion at 20 weeks and implemented other draconian anti-choice measures. The bill passed but she kept Texas's heavily red legislature on its toes: Lawmakers had to call two special sessions that year to get around Democrats' legislative maneuvers.
Her courageous stand catapulted Wendy into the national spotlight and led her to mount an inspiring, though unsuccessful, bid for governor.
Now, she's taking on an even bigger Goliath in the national Republican machine that will descend on TX-21 to protect a vulnerable freshman.
Let's have her back: Chip in $5 or more to her now!