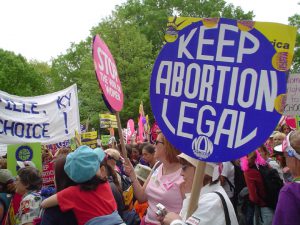 This week, 25 white men in the Alabama Senate voted to ban abortion, a trend that's played out (and is still playing out; Missouri's Senate just voted too) across the country this year.
Four states have passed laws that would ban abortion at six weeks—before most women know they're pregnant—essentially making it illegal. This strategy is aimed squarely at taunting the Supreme Court's new conservative majority into overturning Roe v. Wade.
All of the legislatures (except Georgia) that have passed these anti-choice bills rank lowest in the country in the number of women members, according to data from the Center for American Women and Politics.
Alabama's restrictions go the furthest, criminalizing all abortions, at any stage of pregnancy, without rape or incest exemptions. And the new law threatens doctors with up to 99 years in jail, infuriatingly higher than the criminal penalties for rape.
No moment in recent history has better shown us the importance of electing women to our legislative bodies. The health of our actual bodies depends on it.
In an attempt to stem the onslaught of anti-choice legislation, women lawmakers have told their own abortion stories on House and Senate floors. One Republican lawmaker in South Carolina even faced harassment from a male colleague after speaking about her rape and the resulting pregnancy, which she was able to end safely and legally.
The end of safe and legal abortion in America is not a foregone conclusion, but to turn the tide we have to put more women in power, starting with the US Senate—so we can flip it, preserve the Supreme, and enact pro-choice legislation.
Take the first step by chipping in $25 to our Senate 2020 slate: two incumbents (Senators Shaheen, NH, and Smith, MN), two challengers (Teresa Tomlinson, GA, and MJ Hegar, TX) and one possible challenger (Amy McGrath, KY).