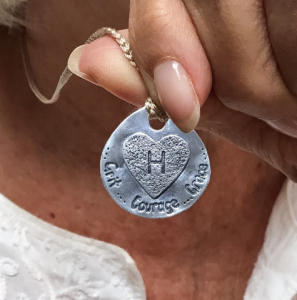 We love the beautiful new Hillary pendants co-created by Susie Buell, a founder of WomenCount, and Billy Zeemann, a jewelry artist originally from New Zealand and now living in northern California. So we're giving one away!
Be automatically entered to win this special commemorative pendant by supporting our new Hillary + Senate Six Pack slate. We simply must elect Hillary and give her a Democratic Senate!
Entries must be received by Wednesday, Sept. 14 at 5 p.m. PST.
Inspired by actress Meryl Streep's speech at the Democratic convention in Philadelphia, the words "grit, courage, and grace" are inscribed on the front of the pendant and "love and kindness" are on the back. Pendants have been gifted to Hillary herself, Meryl Streep, Katy Perry, women Senators, and others. So you will be in good company!
Democrats needs to flip five seats to take back the Senate. There are nine races being targeted for takeover, and of those, six are fielding women candidates.
In short, women will flip the Senate in November — but they need your support now. Donate $5 or more now to Hillary and each of these women Senate candidates.
Billy describes her "Taliswoman" necklace this way: "The spirit of Hillary's campaign has taught us that we are stronger together. Women from coast to coast are wearing their own Taliswoman necklaces, bonding us in a movement to show solidarity and to usher in 'grit, courage, and grace.'"
Join the movement. Support Hillary and women Senate candidates now. And be entered to win this beautiful necklace.
Don't want to make a contribution today? That's OK, you can still enter our contest by signing up here! And if you can't wait a whole week to see if you've won, you can purchase a pendant directly on Billy Zeemann's website.