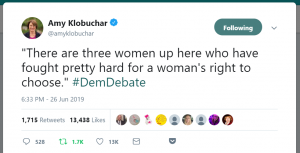 Women won the first Democratic debates—but will it be enough to keep them on the stage?
First, the good news: Sen. Kamala Harris and Sen. Elizabeth Warren are already getting a big media bump from their debate performances.
Sen. Warren solidified her position as a frontrunner by bringing to the stage a spirited moral defense of her famously detailed list of policy proposals. And Sen. Harris's use of her experience with bussing as a child to question former Vice President Joe Biden's mixed record on civil rights was the highlight of the second debate.
Sen. Amy Klobuchar and Sen. Kirsten Gillibrand also showed they belong on that stage: Sen. Klobuchar's ripost to a mansplaining Gov. Jay Inslee was another highlight, as was Sen. Gillibrand pointing out that she's been calling for Medicare for All her whole tenure in Congress.
Now, the bad news: To stay on the debate stage, these women are going to have to poll at 2 percent or more and get 130,000 grassroots donors, including at least 400 from 20 different states. Right now, some of them just aren't there.
Make sure Kirsten Gillibrand, Kamala Harris, Amy Klobuchar and Elizabeth Warren stay on the debate stage: Become one of their 130,000 grassroots donors by chipping in $20 to our Keep Them On The Stage slate before tonight's quarterly fundraising deadline.