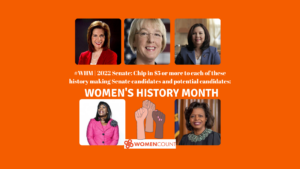 The last two election cycles have been historic for women, with a record number running for and winning seats in Congress.
But in that time, women's representation in Congress has only gone from 24 percent to 27 percent. That ranks the US 68th in the world for the number of women in our national legislature, which reflects progress but is still far from where we should be.
We need many more record-breaking years to reach parity. That's why we're hoping Women's History Month 2021 can kick off another history-making cycle for electing more women to office.
And we're hoping to energize you to make that happen with some targeted Women's History Makers (WHM) slates, all drawn from the results of our recent survey asking about which candidates you most want to support.
First up, chip in $5 or more to each of the five women on our WHM 2022 Senate slate.
We're showcasing these three incumbents and two draft candidates because our community (83 percent) said overwhelmingly that supporting Senate candidates is your top priority this cycle. All are history makers already—and some can make history again by getting elected next year.
Sen. Catherine Cortez Masto is the first Latina ever elected to the US Senate.
Sen. Tammy Duckworth is the first Thai American and first woman with a disability elected to Congress, and the first Senator to give birth while in office.
Sen. Patty Murray is Washington's first female Senator.
Judge Cheri Beasley is the first Black woman to serve as Chief Justice of the North Carolina Supreme Court. If elected, she would be the state's first Black Senator.
Rep. Terri Sewell is the first Black woman elected to Congress from Alabama. And she could be the state's first Black and first female Senator.
Give $5 to each of these women now and help them post big numbers at the end of the fundraising quarter on March 31.
And stay tuned for more results from our member survey and new slates.