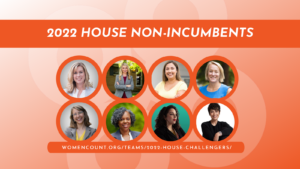 Some politically critical states have just finished drawing their new Congressional maps.
So today we're debuting our 2022 House Non-Incumbents slate, eight women who will have the closest general election races if they make it out of the primary.
We're expecting Democrats' prospect of holding onto the House to hinge on two big states—California and New York—and four states with fewer competitive seats, Colorado, Illinois, Michigan and Texas. Most of these seats technically lean D, but might as well be tossups in a year when Republicans are thought to have an advantage.
The candidates to watch, and donate to, right now are:
Christy Smith (CA-27), who's facing a rematch with Republican Rep. Mike Garcia. The new district leans slightly more Democratic, from D+5 to D+8. The primary is June 7.
Brittany Pettersen (CO-7), who's running for the seat vacated by Democratic Rep. Ed Perlmutter. This seat has gone from a solid D+15 to a slimmer D+6. The primary is June 28.
Yadira Caraveo (CO-8), whose brand new district is R+3.
Nikki Budzinski (IL-13), whose district was R+8 and held by Republican Rep. Rodney Davis, but now leans D+8 and is open. The primary is June 28.
Hillary Scholten (MI-3), who's looking to challenge incumbent Republican Rep. Peter Meijer in a district that's gone from R+9 to D+3. The primary is August 2.
Jackie Gordon (NY-1), who's running in the seat recently vacated by Republican Rep. Lee Zeldin. It's swung from R+10 to D+6. The primary is June 28.
Brittany Ramos Debarros (NY-11), whose district is currently held by Republican Rep. Nicole Malliotakis. It's swung from R+13 to D+7.
Eliza Alvarado (TX-15), whose evenly rated district is one of the few left competitive by Texas Republicans. The primary is March 1.
Please give $5 or more to these women now, to help them make it through their primaries and win seats in Congress this fall.